Most Political Science students are familiar with the tutor programme, but did you know that at the Department of Political Science we also have an international tutor association called the Mentor Programme? The association is social and inclusive with the goal of helping exchange students at our department settle into life and studying in Copenhagen.
Skrevet af Ida Lous Jensen og Astrid Holck Brauer
Illustreret af Ida Lous Jensen
Mentors and mentees
The programme facilitates the best possible start for exchange students by pairing up mentors and mentees; a Danish student is called a mentor and an exchange student a mentee. As a mentor you sign up via the registration form on the programme's Facebook page "Mentorgruppen på statskundskab" and will later be paired up with one or more exchange students.
As a mentor, your main job is to make sure the mentees have a good experience in Denmark. Especially in the beginning, the focus is on helping the mentee you have been paired up with. This can be by picking them up in the airport when they first arrive, answering questions about how they get their dorm keys, how Rejsekortet works and just being a friendly face they can recognize on campus who will be willing to help answer questions that pop up. The whole purpose is to welcome students from all over the world with a warm welcome as well as give an insight into life as a young adult at UCPH.
"I have seen how hard exchange can be for people and how hard it can be to fit into a new country, a new society, a new way of life. So for me it was a no-brainer to at least do a little to try and make the exchange experience as amazing as it should be." (Daniel, first time mentor, 2 semester)
Beside helping your assigned mentee, you will either join the intro committee or party and activity committee – or both if you like. The intro committee hosts an introduction week at the beginning of the semester while the party and activity committee hosts events throughout the semester. The introduction week typically includes games at CSS, a restaurant visit, trips around the city and a traditional gala party. Events hosted throughout the current semester include an international dinner – where everyone brings a dish from their country -, day trip to Roskilde, Easter party, museum trip, winter bathing – with more to come. Unlike the tutor programme, the mentor programme has activities during the entire semester, but is less intense as things are spread out more.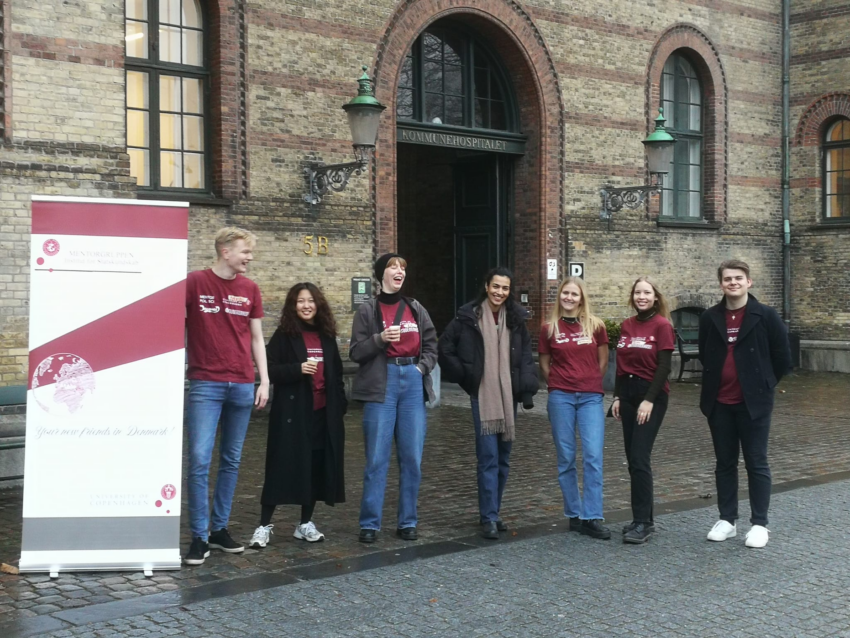 Senior Coordinator, Sarah Skipper
We asked the head of the association – officially the "senior coordinator" – Sarah Skipper a few questions about her experiences with the programme. Skipper is a 6th semester student, and this is her 4th semester of being a mentor. Like many others, her way to the group was a lucky coincidence.
"The first time I came across the mentor programme was at the "Foreningsbazar"-day on campus, where I saw a bunch of people having fun and talked about being some sort of a tutor for exchange-students. I thought it sounded great and then I signed up for the next semester – and I'm here to stay!"
When asked to explain a bit about what it means to be a mentor, she focuses the cultural aspects:
"A mentor is many things if you ask me. It's an open-minded, helpful and curious individual, who is sharing their life as a Danish student to multiple students, who have different cultures.
The mentor group likes to answer whatever questions the mentees might have about our weird country or culture: Why the hell don't we talk with each other on the bus station? Why do we drink so much alcohol? And how is Christiania even a concept that exists?
It really is a fun way of getting a different perspective of our own way of living and being, and as a plus, you get friends and insights from all over the world! But for me personally, I think the best part of being in the mentor groups is the friends I have made. I often see this pattern, that if you start as a mentor, you usually stay – some of my friends from the group have been a part of the mentor groups for years.
It's truly a special bond within the group and I wouldn't be without it!"
The mentor association is a volunteer organization. However, someone has to keep track to make sure everything goes smoothly. That is why there is a coordination group, which is headed by the senior coordinator. This year, it is Skipper.
"I volunteered partly because I wanted to make a difference for the programme, partly because of the people, who would be a part of the coordination group. I had an outstanding senior coordinator, when I was a junior, who really motivated me to do my best within the mentor group. Today the people in the coordinator group are some of my good friends. It's really all about the friendship you make along the way – as cheesy as it way sounds."
Why you should become a mentor
If this hasn't persuaded you to become a mentor yet, current mentors Skipper and Daniel give some convincing arguments:
"You should definitely become a mentor, because it's an association where you meet people of all (student) ages, backgrounds and countries. The mentor group as itself is a diverse and causal group, where people are here to stay – even after they get their masters, there's still a network of people.
For me, joining the mentor groups has been the best decision throughout my uni-life" (Sarah Skipper, Senior Coordinator, 4th time mentor)
"Being a part of the mentor group, for me, is really great, because I get to meet a lot of people I wouldn't have met otherwise, especially older students. In a chill environment you can talk about everything – about being a student and get a lot of answers, and you can also make a lot of friends. Meeting people you wouldn't otherwise have is really essential. You also get to create a lot of stuff. If you have an idea, you can make it happen with the mentor group." (Daniel, first time mentor, 2 semester)
---
The Mentor Programme is the international tutor association for exchange students. The programme ensures the best possible start with their studies in Denmark. This includes both social events e.g. parties, an introduction week as well as cultural and study related events. This is your chance to encounter a lot of students in different year groups and get to know people – and make friends – from all over the world.